MATTER
ALEIX PLADEMUNT
2022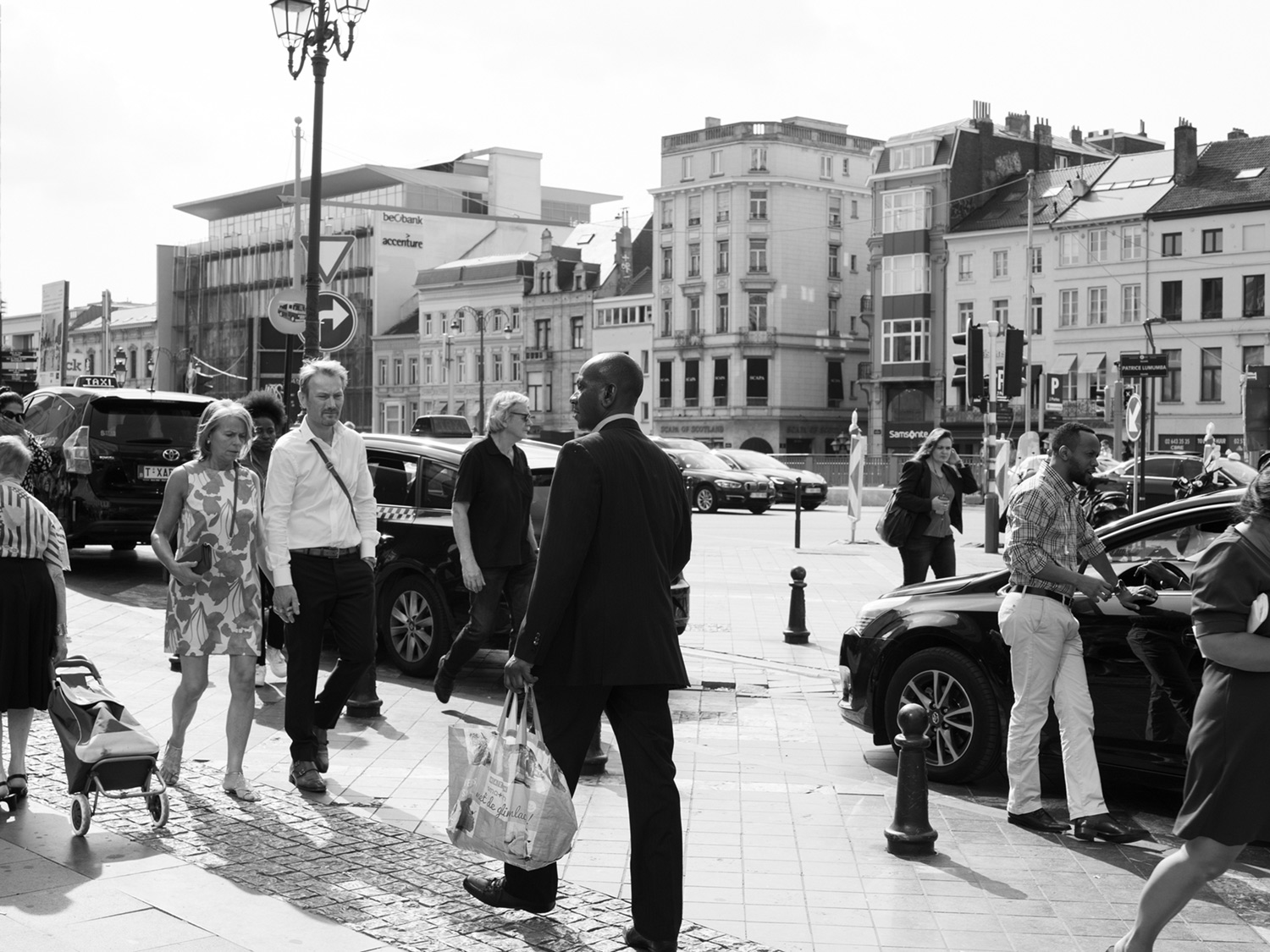 [CAT]

Del llatí mater (mare), la paraula matèria anomena la substància primera de què estan fetes les coses. El terme en anglès matter amplia les seves accepcions i inclou la concepció de problema, qüestió, i també, allò que importa, alguna cosa que preocupa. El projecte Matter analitza una de les qüestions més antigues de la nostra existència: l'origen.

La matèria està composta per minúscules partícules indivisibles que són en si mateixes inertes, immòbils i incapaces de reproduir-se, i que, a la vegada, la seva combinació dona lloc a la vida. Amb el seu impuls revolucionari, l'explosió de matèria del big-bang dona origen a l'univers. Durant el seu cicle vital, un organisme es reprodueix, evoluciona, genera i utilitza energia i mor. La matèria involucrada en aquest procés, en canvi, continua participant de nous cicles. És l'única certesa des del principi fins al final.

En una de les composicions evolutives més recents en l'espai i temps, l'ésser humà sorgeix. Dedicat a dominar la capacitat de transformació de la matèria, la multiplica en compostos impossibles i genera estructures artificials tant al laboratori com a l'entorn quotidià, i la interpreta mitjançant mecanismes cada vegada més abstractes. La complexitat governa l'evolució fins al punt d'oblidar que l'evolució mateixa ha estat possible gràcies a la imitació precisa dels processos originals.
[ENG]

Derived from mater, the Latin word for mother, matter refers to the substance from which all things are made. In English, the word matter can also indicate importance or significance – something to be concerned about. The Matter project analyses the age old question of existence; it pursues our origin.

Matter is composed of tiny indivisible particles, inert in themselves, without motion, unable to reproduce. But it leads to life. The Big Bang's radical expansion created everything. During its life cycle, an organism undergoes many changes – it grows, learns, evolves and dies – but matter always remains. Matter is a constant. It was there from the beginning and it will remain long into the future.

Humans emerged from one of the most recent evolutionary alignments in space and time. We have endeavoured to dominate and transform matter: augmenting it in impossible compounds; generating artificial constructions in both the laboratory and everyday environments; interpreting it through increasingly abstract means. Complexity governs evolution, to the point of forgetting that evolution has been possible thanks to the precise imitation of the original processes.

[ESP]

Del latín mater (madre), la palabra materia denomina la sustancia primera con la que están hechas las cosas. El término en inglés matter amplía sus acepciones e incluye problema, asunto, y también, algo que importa, incluso algo que preocupa. El proyecto Matter analiza una de las cuestiones más antiguas de nuestra existencia: el origen.

La materia está compuesta por minúsculas partículas indivisibles, en sí mismas inertes, inmóviles, incapaces de reproducirse. Sin embargo, su combinación da lugar a la vida. Con el impulso revolucionario del Big Bang, su propia explosión de materia da origen al universo. Durante su ciclo vital, un organismo se reproduce, evoluciona, genera y utiliza energía y muere. La materia involucrada en dicho ciclo, en cambio, permanece participando de nuevos ciclos. Es lo único certero desde el principio hasta el fin.

En una de las composiciones evolutivas más cercanas en espacio y tiempo, surge el ser humano. Esforzado en dominar la capacidad de transformación de la materia, la multiplica en compuestos imposibles, generando estructuras artificiales en el laboratorio o en el propio entorno cotidiano, interpretándola mediante mecanismos cada vez más abstractos. La complejidad preside la evolución, hasta el punto de olvidar que la evolución misma ha sido posible gracias a la precisa imitación de los procesos originales.

---
BOOK
Matter, by Aleix Plademunt
2022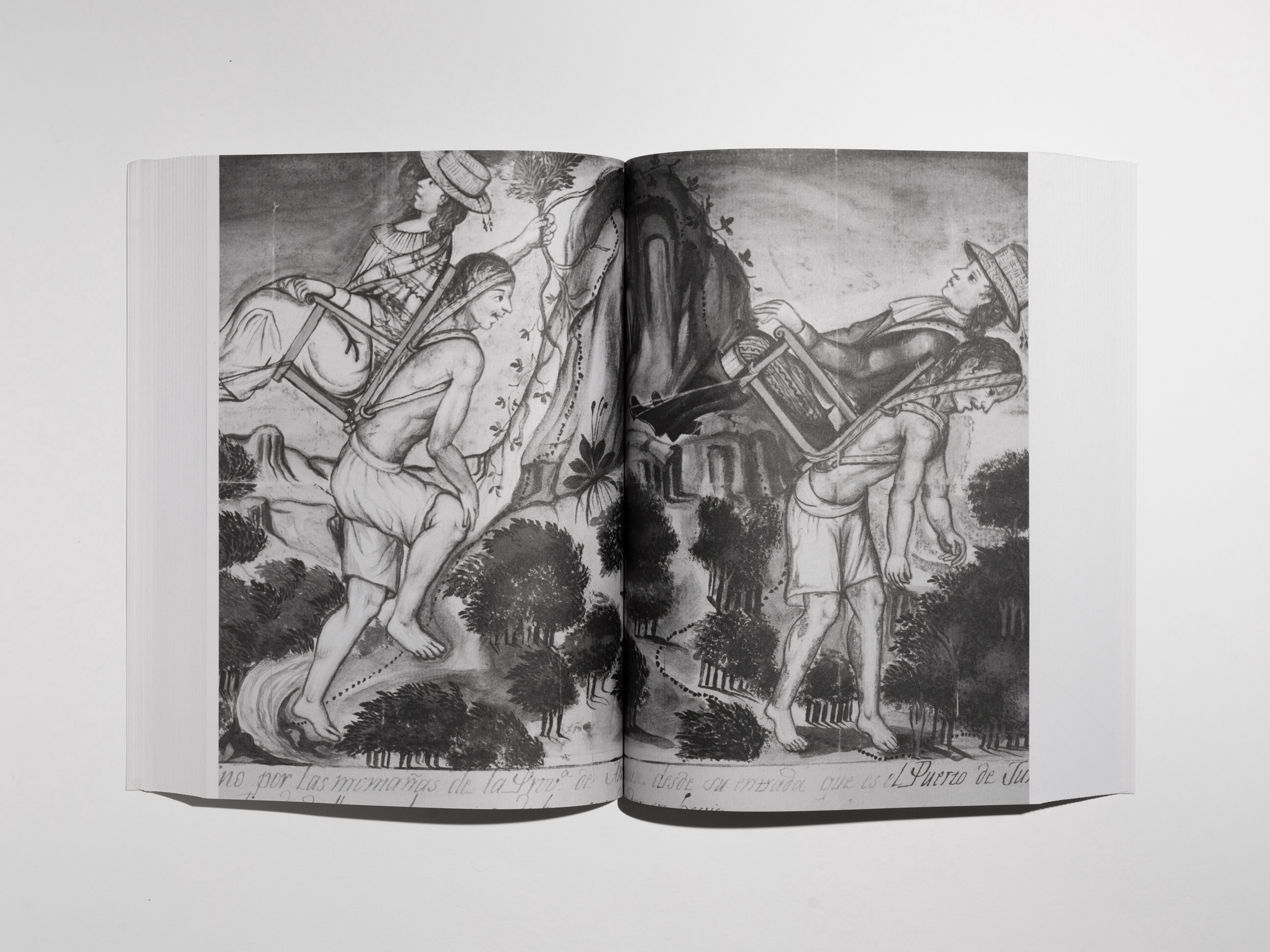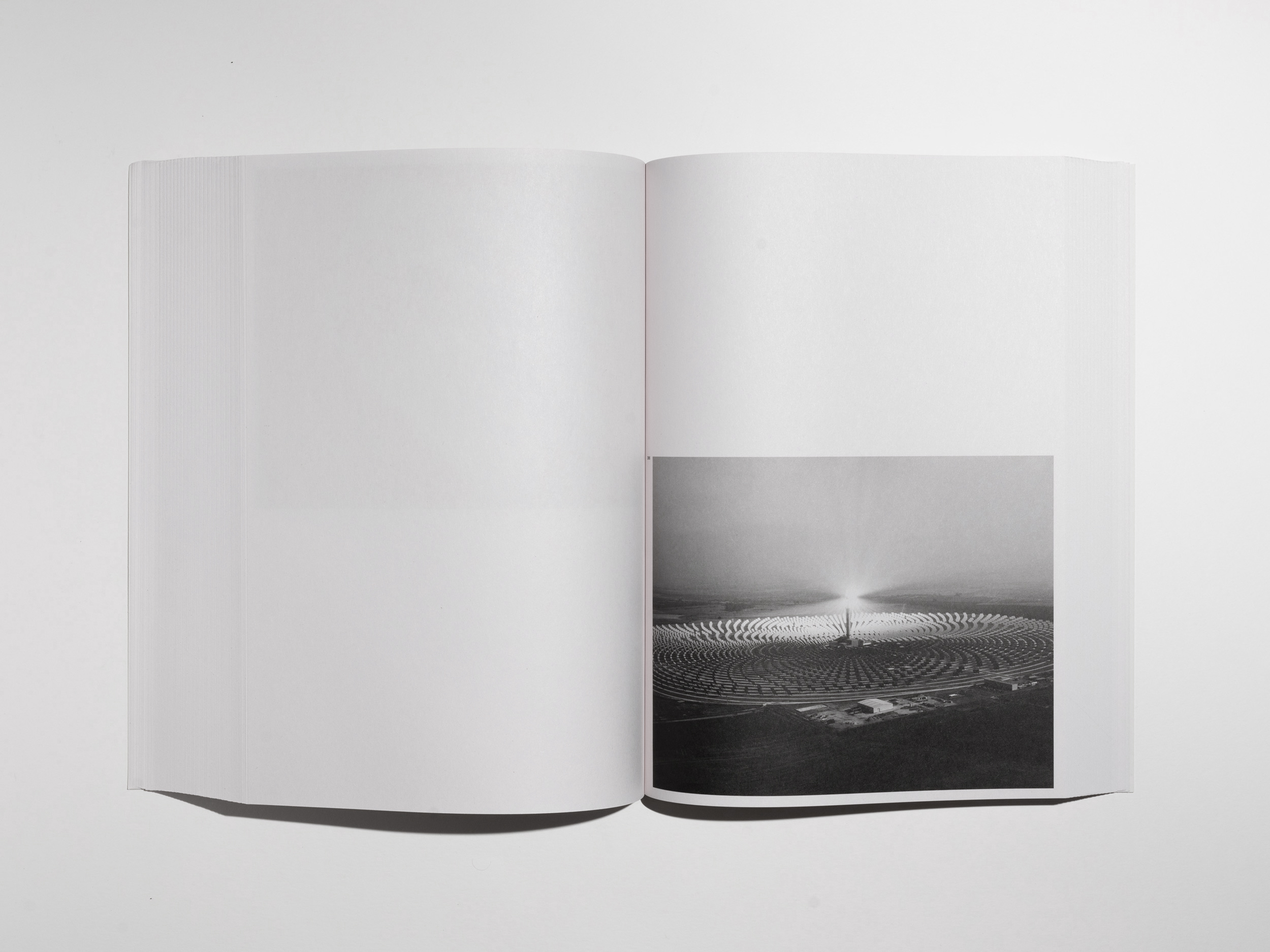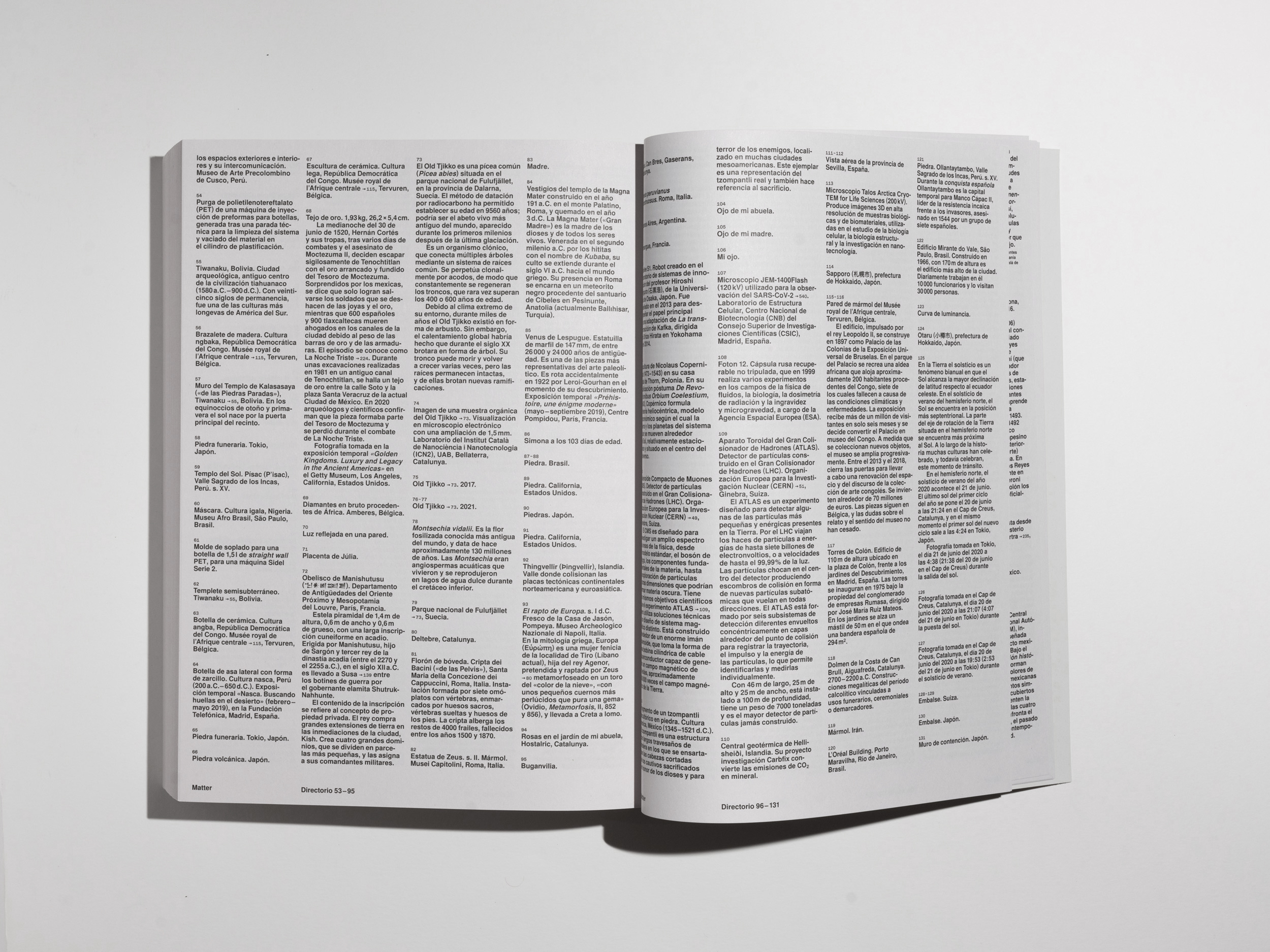 Published by Ca l'Isidret and Spector Books
Ca l'Isidret: Spanish edition
Spector Books: English edition

Translation by Benjamin Palmer
Copyediting by Xavier Valls Guinovart
Design by Fabian Bremer, Hannes Drißner and Pascal Storz
Printed in Germany

+ INFO ABOUT THIS BOOK


48€
---
EXHIBITION
Matter
Apunts per a un incendi dels ulls, MACBA, Barcelona
22 October 2021 to 27 February 2022


---
EXHIBITION
Matter
Canal de Isabel II, Madrid
12 May to 24 July 2022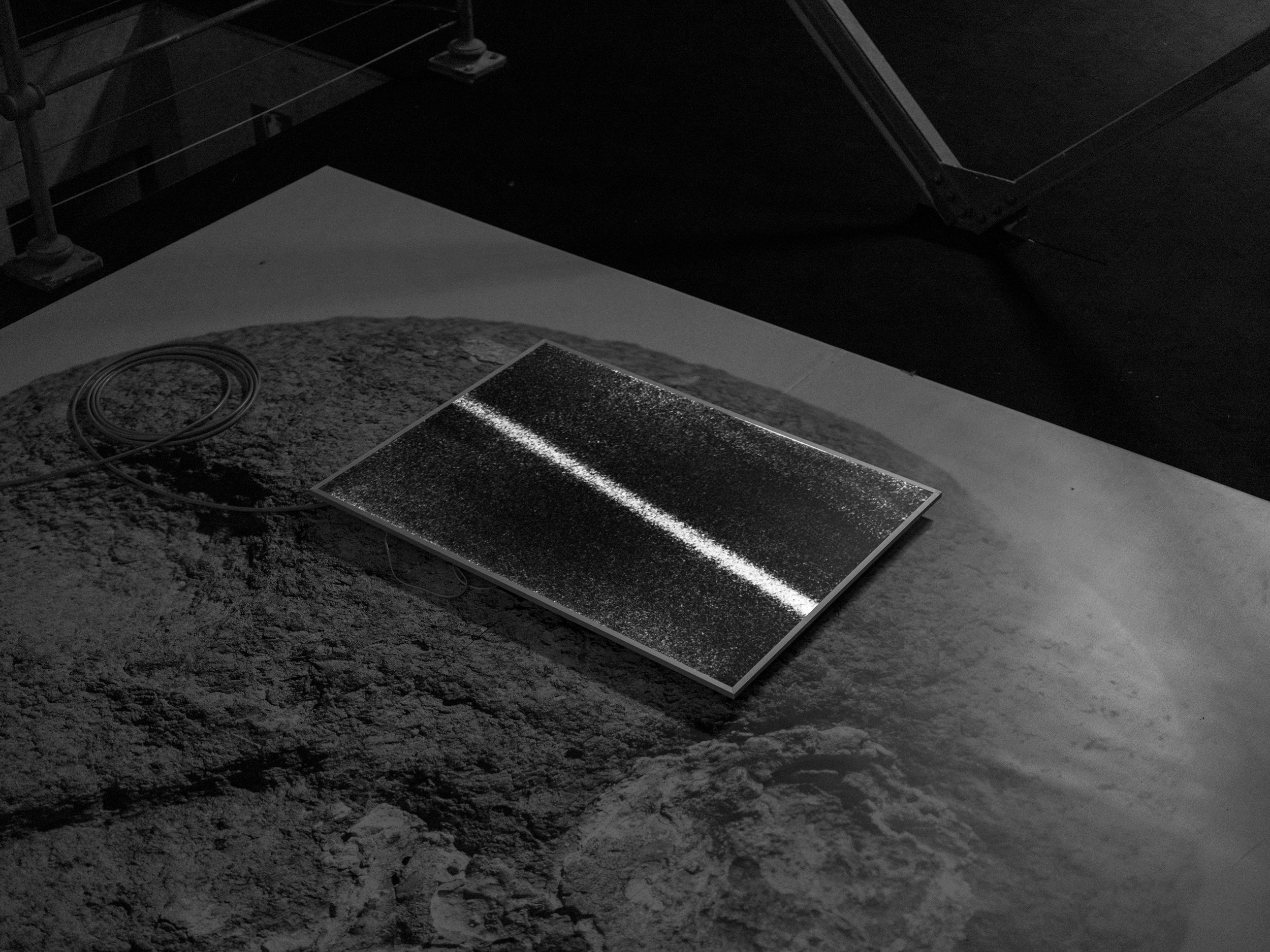 PRESS


Vídeo de la exposición, Comunidad de Madrid

A 6.000 millones de kilómetros y hace 13.800 millones de años. El Cultural. Elena Vozmediano, 08-06-22

Manos que crean, manipulan, transforman y destruyen. Babelia, El País. Gloria Crespo, 02-06-22

Materia y representación. ABC. Francisco Carpio, 21-05-22

Las formas de la materia. Masdearte, 12-05-22

Full Frame. Conversación Con Antonio M Xoubanova, Aleix Plademunt y Juan María Rodríguez, 31-05-22

---
EXHIBITION CATALOGUE
Antimatter, by Aleix Plademunt
2022


[ESP]

[...] Porque, ¿es Matter que pone a dialogar a la roca, al árbol, a la estatua y al robot? O ¿es que ese diálogo transtemporal y transmatérico ya existe? ¿No es, acaso, la materia la que está (in)formada por ese diálogo? Así, como las raíces de los árboles que comunican y comparten información, ya sea por contacto directo o por un tejido microrrizado, podríamos percibir la materia como fuente de diálogos múltiples. Lo "inerte", adjetivo con el que solemos calificar a la materia, está lleno de vidas. En este sentido, la materia no es inocente. Contrariamente a nuestras propias construcciones ideológicas, la materia en constante transformación se nutre, se constituye de esos diálo- gos. Tales transformaciones pasan casi inadvertidas por, nosotras, demasiado humanas. Necesitamos, sin duda, repensar nuestros dispositivos de visión, de-y-re-construirlos, re-inventarlos. Matter se confronta a esa nece- sidad, provocando otras búsquedas. Puesto que, como lo propone Donna Haraway1, los "artefactos protésicos (también) nos enseñan que todos los ojos, incluidos los nuestros, son sistemas perceptivos activos que construyen traducciones y maneras específicas de ver, es decir, formas de vida". Es en estas búsquedas que Matter no es inocente y nos empuja a no serlo tampoco.

Mabel Tapia
[ENG]

[...] Does Matter put the rock, tree, statue, and robot in dialogue with each other? Or does this transtemporal and transmaterial dialogue already exist? Is it not, perhaps, matter itself that is (in)formed by this dialogue? Thus, as with the roots of trees that communicate and share information, either by direct contact or by mycorrhized tissue, we can perceive of matter as a source of multiple dialogues. The "inert" – an adjective we usually use to describe matter – is full of lives. In this sense, matter is not innocent. Contrary to our own ideological constructions, matter in constant transformation is nourished and constituted by these dialogues. Such transformations go almost unnoticed by us, all too human. We certainly need to rethink our vision devices, to deconstruct and reconstruct them, to reinvent them. Matter confronts that need, sparking other searches. As Donna Haraway1 propounds, "prosthetic devices (also) show us that all eyes, including our own organic ones, are active perceptual systems that build translations and specific ways of seeing, that is, ways of life". It is in these searches that Matter is not innocent and pushes us not to be either.

Mabel Tapia
Photos by Aleix Plademunt. Texts by Antonio M Xoubanova, Borja Bagunyà, Júlia Francino, David Bestué,
Klara Källström,
Thobias Fäldt,
Johannes Wahlström,
Carlos Marques-Marcet, Mabel Tapia and Pascual Arnal. Drawings by Lys Villalba.
Published by Ca l'Isidret and Comunidad de Madrid.
Design by Kentaro Terajima
Printed in Barcelona
+ INFO ABOUT THE BOOK
30€
---
OTHER PUBLICATIONS BY ALEIX PLADEMUNT

Intempèries / Hinterlands, 2021

Iberia, 2019
Un passaggio, 2017
Morishita, 2017
Laboratori, 2015
Gigante, 2014
Almost There, 2013
Ca l'Isidret, 2012
Movimientos de suelo, 2011